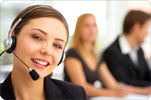 We foster good communication, so when you contact us, by phone or e-mail, we endeavor to respond promptly.We're interested in your questions, requests for information and ideas.
US and International Customer Service + 1 (818) 303-9260
Office Hours: Mon. Thru Fri. 6:30am - 5:00pm PST (-8 GMT)

United Kingdom Customer Service (020) 3006 2872
UK Local Time: Mon. Thru Fri. 2:30pm - 1:00am

Australia Customer Service : 1-800-058-524
Sydney Local Time: Mon. Thru Fri. 1:30am - 12:00pm

Brasil - Serviço de Atendimento ao Cliente: (21) 3956-0567
Horario de Funcionamento: Seg a Sex 11:30 - 20:00 horario sudeste.

Deutscher Kundenservice: +49 3222 1090680
Montag bis Freitag: 6:30 bis 17:00 PST
To track your order click on the following links below & then enter your tracking number:
- Please wait at least 5 days from your date of purchase to get tracking status details on your order.
USA Shipments: - USPS